Custom Cut Gaskets, Gasket Material, Seals, and Packing from Thermoseal, Garlock and others including Klinger and Klingersil products
New Gasket Cutting Machine
---

Valley of Birmingham's recent addition of a Relco Atom Flash Cut machine means we are able to cut your gaskets with higher speed, quality and precision.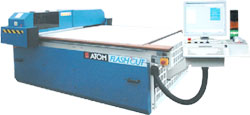 Larger quantity production runs are no problem with this machine. It's nesting abilities and precision enable us to turn your projects around with speed and accuracy.
We can even cut from your AutoCad, TurboCad, or DXF drawings.
---